Shade Sails Shade Cloth Agricultural Shade Cloth Solar Water Heaters Electric Bicycles
__________________________________________________________________________


High Quality, All-In-One, Rooftop Solar Water Heater
Go Green And Save Money with this DYI Solar Water Heater Kit.
$849 plus shipping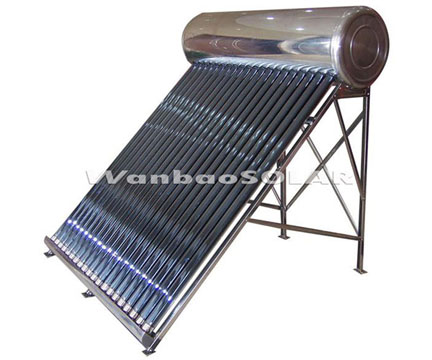 Photo shows stainless outer tank.. Actual model is stainless inner tank and galvinized outer tank.
Features:
Saves Money! Can pay for itself in 2-4 years in energy savings.
Simple All-In-One design making installation easier and less expensive.
53 gallon insulated storage capacity. Recommended size for a family 3-4.
Built in 110 volt electric back up heating.
Freeze (cold climate) resistant design. Good to 10 F.
No pumps or expensive heat exchangers.
Fully automatic electronic controls.
Stainless steel inner tank.
Galvanized steel outer tank.
Heat Pipe collectors are state of the art in efficiency.
No CO2 emissions.
3 Year warranty.
Simple All-In-One Design...
The solar collecting tubes, insulated storage tank and back up heating system is
all here in one unit.. Just plumb in hot and cold supply pipes and provide 20Amps of 110v electricity and your done!
Although having an all-in-one type heater means a bigger unit on the roof, it also eliminates all that extra plumbing, heat exchangers, pump, and remote storage tank. People often think that because they already have a water heater and tank they only need the solar collector.. Then they find they need a pressurized system, circulating pumps and if you are in a cold climate an expensive heat exchanger.. Add to all that the complex plumbing and where is your savings?.. Also you have a cobbled together system that needs to have a pump running all the time to circulate the water.. This is one of those times when starting from scratch with a complete purpose built system will save you hassles during the installation and ultimately will save you money up front and in the long run.
Saves Money
Savings vary widely depending on how you currently heat your water, size of your family, climate, etc.. But you should save $200- $600 year...
click for government statistics
. That means it pays for itself very quickly. There may be additional tax benefits as well but don't be mislead.. They are difficult to qualify for and if you make more than $3/hr you may not want to waste your time on government forms..
This unit is passive with no circulating pumps eating up your savings.. Heat Pipe technology gives you very high efficiency for the most heat collection per square foot of any common design. The more heat you collect for free the less you will paying for energy.. This unit is one of the best values of energy savings per dollar spent and the up front cost is one of the lowest of any available on the market today.
Save the Environment
Solar water heaters can reduce the load of your electric water heater by almost 2,500 kWh per year, preventing 4,000 pounds of carbon dioxide from entering the atmosphere annually. This is the equivalent of not driving your car for four months every year!
Advantages of the All-In-One Design.



Easier installation.
Most solar companies want to sell complicated systems! Guess why? To make more money on the installs. Anyone who has traveled in China will see these All-In-One heaters on nearly every roof top. That is because they are less expensive and they work.
Less plumbing
to connect to separate storage tank, heat exchanger and pump.
Less plumbing means easier install and fewer parts as well as less heat loss from longer pipe runs.
Built in in Freeze resistance.
Because the water is stored right at the unit there is no un-heated water exposed to the Winter night. The storage tank has back up heating so even when there is no sun or the unit has been drained at night the back up system keeps the unit warm.. With spit units there is a risk of freezing at the collector. So you need to use glycol pumped through a heat exchanger to keep them from freezing in cold climates.. Also the heat tube technology does not use liquid to collect heat. Simply make sure the supply piping is properly insulated and you are good to 10F.
Rooftop installation
means no high pressure system with associated over pressure reliefs valves. Because the unit is All-in-One there is no need for circulating pumps that use energy, make noise and break down..
Electrical heater backs up
(110v, 2000w)
when there is no sun. Helps maintain desired temperature.
Uses no flame and produces no emissions.



Automatic electronic controller

fills the tank automatically and controls back-up heater.
Quality built
with stainless steel inner tank insulated with foam and a galvanized steel outer tank. These heaters are used all over China and are the real deal not a novelty item or a cobbled together system.
Heat Pipe Tube collectors
are state of the art in efficiency.
Light is captured by glass tubes from a wider angle than older style collectors. This means they are collecting heat for more hours per day. Heat is transferred to the storage tank by copper rods that operate at very high temperatures. Individual heat tubes contain no fluid and can be individually replaced if broken.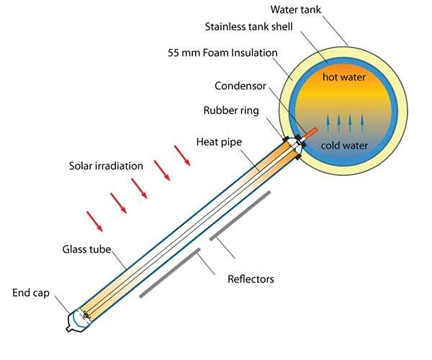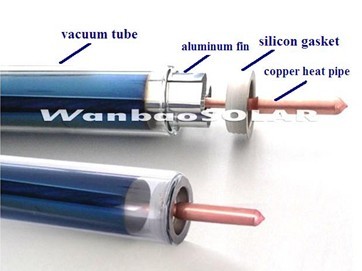 *More Technical information here
Shipping .. Cost varies from $150-$300 depending on destination.
Returns must be as new condition and return shipping paid by customer.
Please allow 3-4 weeks for delivery.
Shade Sails LLC is not responsible for building code compliance. Check with your local authorities regarding any applicable building codes or zoning restrictions..
Are you up to the installation? Click for installation guidelines. Most handy people can do this installation if you have a modest amount of experience working with copper water lines and simple electric circuits. These kits are meant for the DYI installation but a plumber and electrician may be required.
Included:
Solar heater with collector array and 53 gallon insulated storage tank.
Aluminum mounting brackets for lay flat and angled installations.
110 volt 2000 watt back up heater.
Electronic control unit.
Instructions.
3 year warranty.
Not included:
Installation.
Hot and cold water plumbing from solar heater to house plumbing. (should have insulation also) Plumber may be required.
110V 20 Amp fused outdoor circuit for back up heater. Electrician may be required.
Check with local building officials for all applicable building codes and permits.
Top get a quote with shipping please e-mail us with your address.
Contact:
donc@shadesails.com